Dial up the fun in four terrain parks, where all levels of skiers, snowboarders and riders can explore all their tricks have to offer.
Stowe Vermont 's Terrain Parks
2022-23 Updates
The 2022-23 season will see the return of our two terrain parks, Standard and Gulch. Read on to learn more.
Standard Park: Located on Standard below Crossover, guests will find a traditional park with both small and medium features consisting of jumps, rails, and boxes to serve beginner and intermediate level users
Gulch: located below Crossover, consisting of all snow features (no rails or boxes) or enhanced terrain. Guests will experience a variety of snow features like banks, rollers, spines, and rhythm sections. This family-friendly playground is a perfect first experience for an entry level terrain park skier or rider
See the latest status of our Terrain Parks on our Terrain & Lift Status page below.
Lift & Terrain Status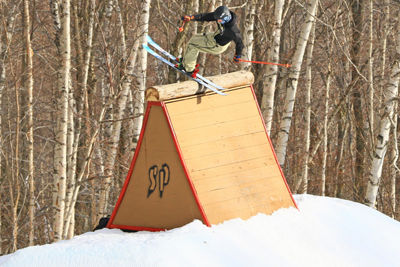 Freestyle terrain parks.
Freestyle Terrain may contain jumps, hits, ramps, bonks, fun boxes, jibs, rails, quarter pipes, snowcross, bump terrain and other constructed or natural terrain features. Before using Freestyle Terrain, you are responsible for familiarizing yourself with Freestyle Terrain. While you're in action you are expected to obey all instructions, warnings and signs. Freestyle skills require maintaining control on the ground and in the air.
Watch the SmartStyle video produced by Terrain Park Safety.
Before you step into any of our parks, be sure to follow the Smart Style:
Make a plan.
Look before you leap.
Easy style it.
Respect gets respect.
For more information, www.terrainparksafety.org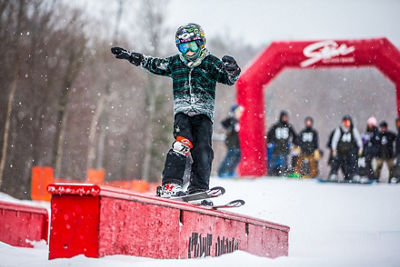 Stowe Parks.
NEW for the 22-23 season: Our Sunrise 6-pack chairlift, replacing the Mountain Triple, will provide convenient access to both parks and a variety of intermediate terrain